ENERGY SAVING SOLUTIONS IN COMPRESSED AIR NETWORK (GODREJ)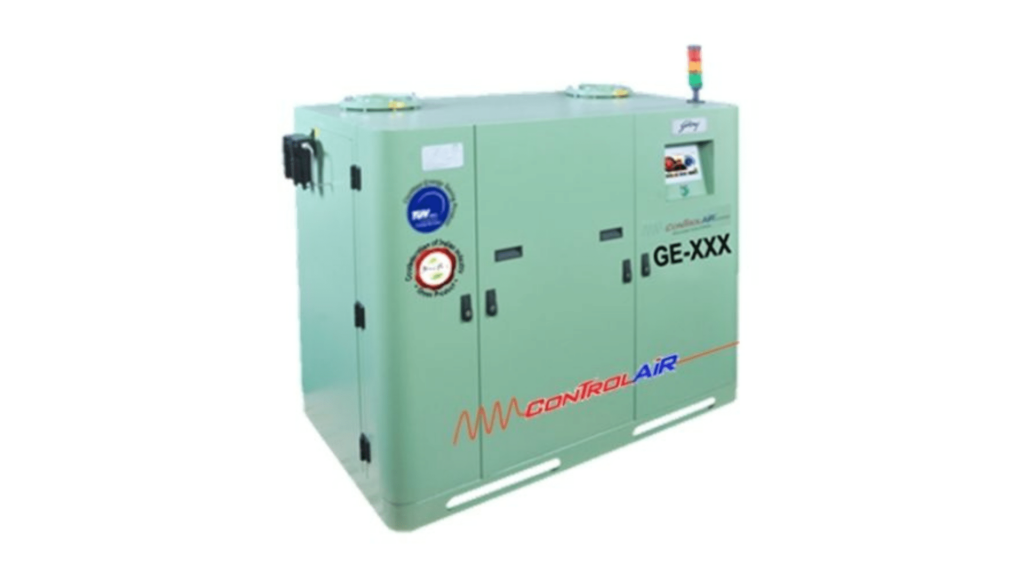 Godrej & Boyce is a 123-year-old flagship company of the Godrej Group with a turnover of over 6 billion USD and spread over 3200 acres in Mumbai. Our family of almost 28,000 Employees works together to realize a brighter and more sustainable future for our country and communities.
As one of 14 businesses of Godrej & Boyce company, Godrej Electricals & Electronics is as old as the company.
Our businesses strive to contribute to the vision of the group by delivering Sustainable Technology Solutions.
Compressed Air Solutions is one of the important business verticals of Godrej Electricals & Electronics
"Energy Conservation Is The Foundation Of Energy Independence"
Our Solutions Are Helping The Industry
To Save Energy
Everyday …..
CAS - Sustainable Energy Saving Solutions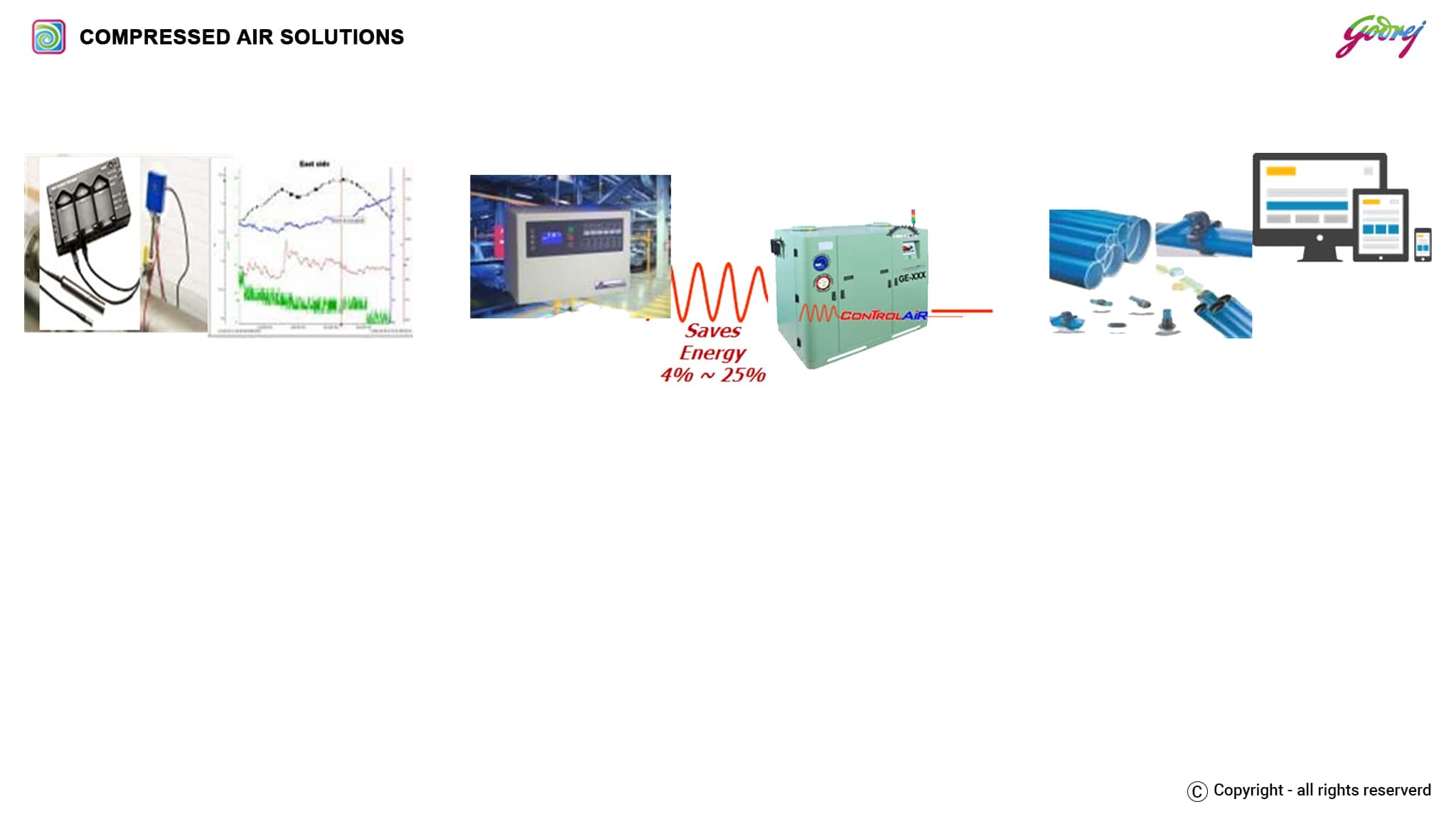 ControlAiR IFC's Achievements & Credentials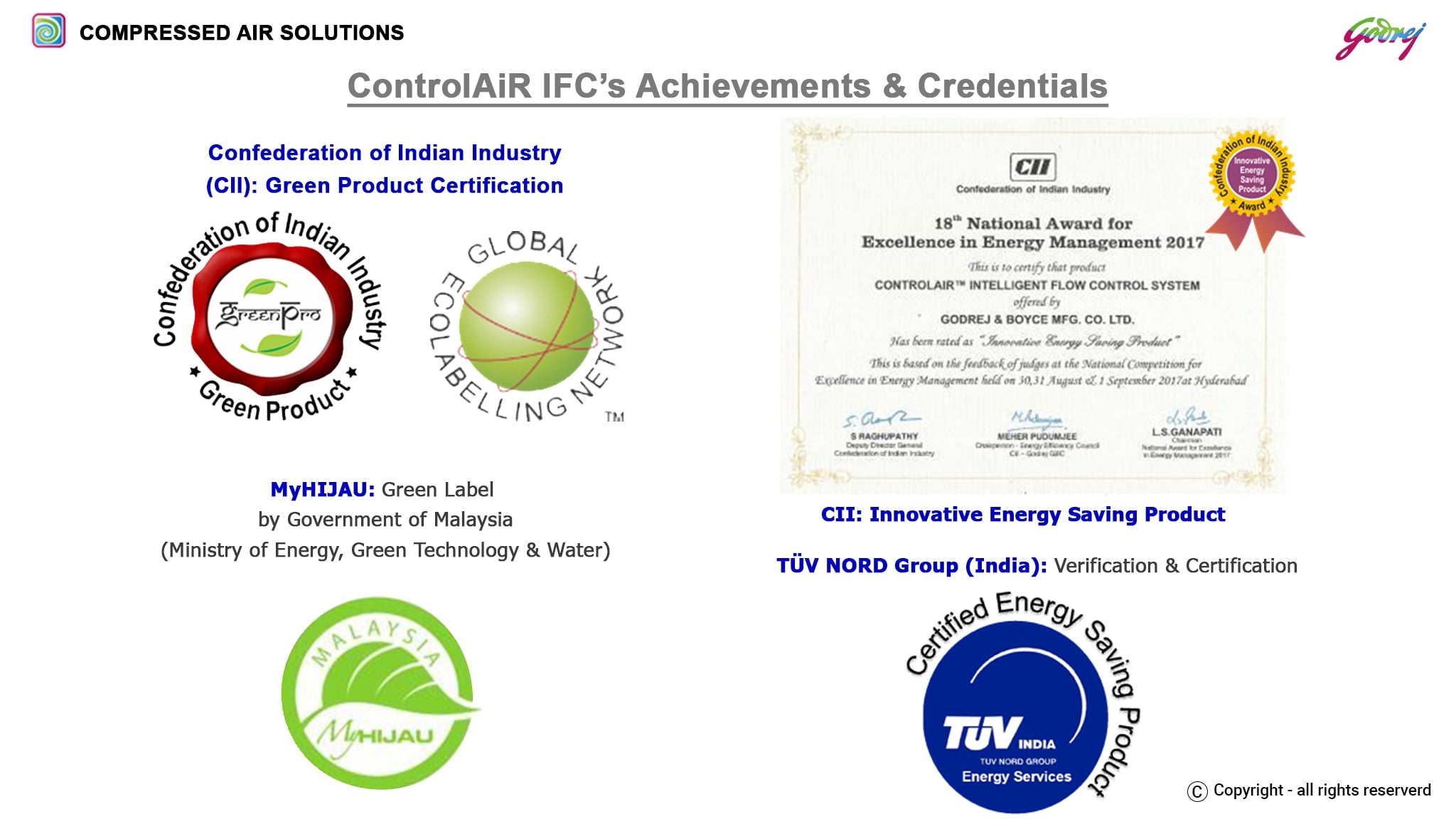 WHY PENUMATIC ENERGY IS THE MOST INEFFICIENT SOURCE OF ENERGY?
Basic Compressed Air System
Basic Compressed Air System
Air Compressors

Heat Exchanger

Wet Air Receivers Tanks & Condensate Drains

Air Treatment Equipment: Air Dryers & Filters with Condensate Drains

Dry Air Receiver Tanks & Condensate Drains
Demand Side: Air Consumption in Factory
Piping Distribution

Pneumatic equipment: Machines & Tools

Cleaning

Drying

Conveying
Fig : Sankey Diagram For Compressed Air System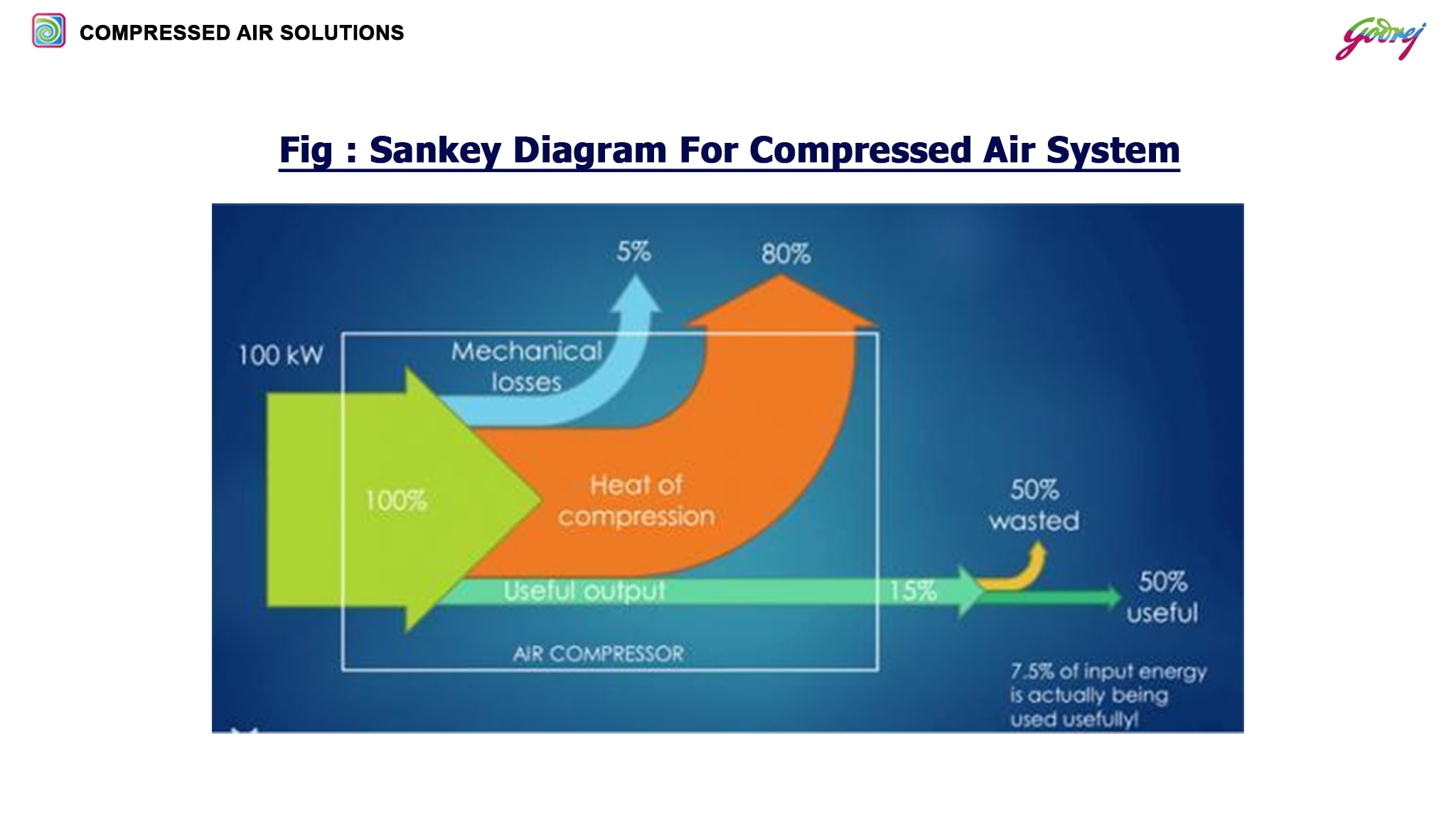 Out of 100 % Electricity Input,
5 % are mechanical losses

80 % are heat losses

Finally, only 15 % is Actually Used
Compressed Air: Most Expensive Form of Energy!
Compressed Air Utilisation In Conventional System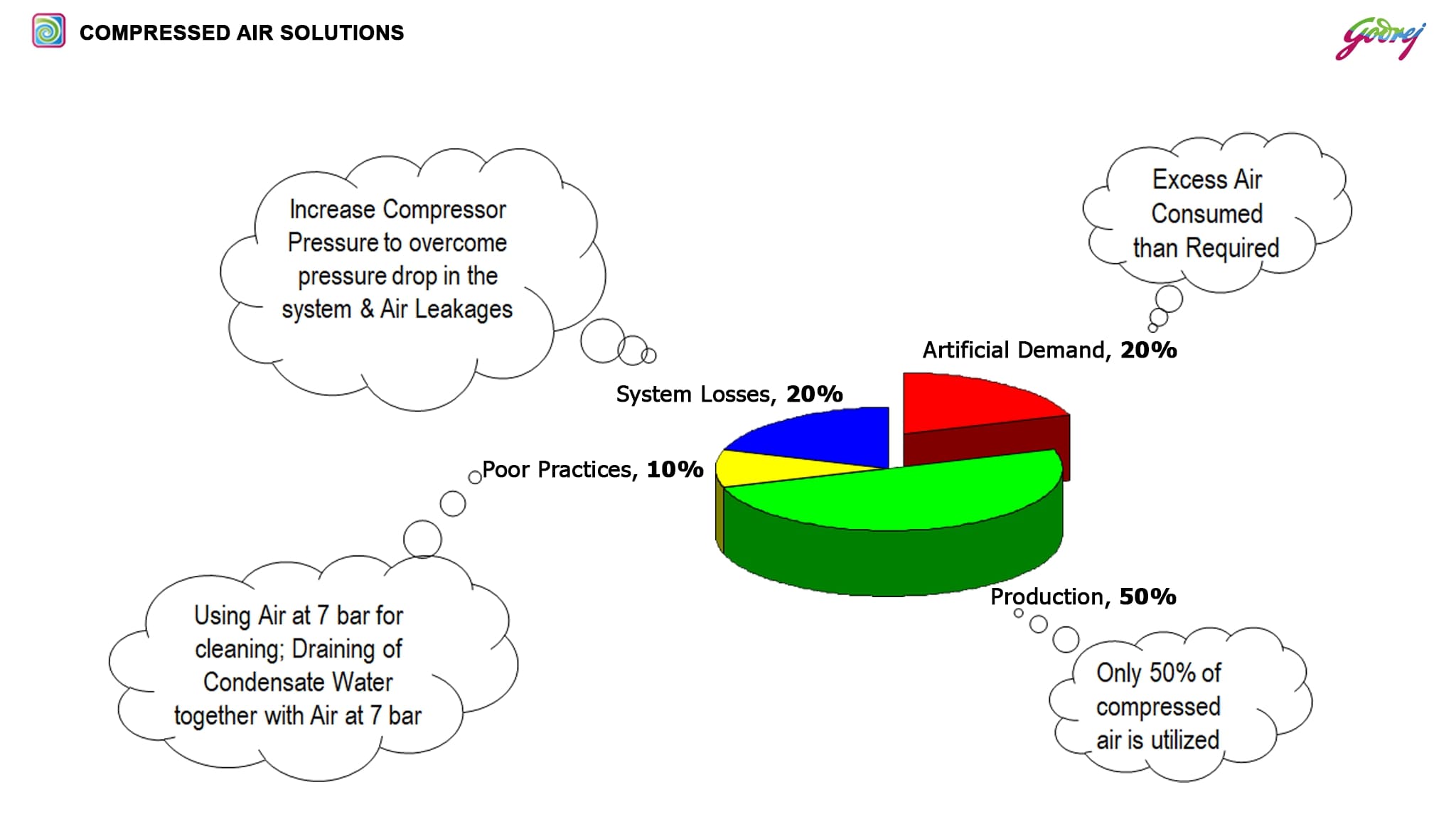 Even with VSD Compressor/Centrifugal Compressor, Pressure May Be Stable At Compressor, But Not At The End Use (Demand Side)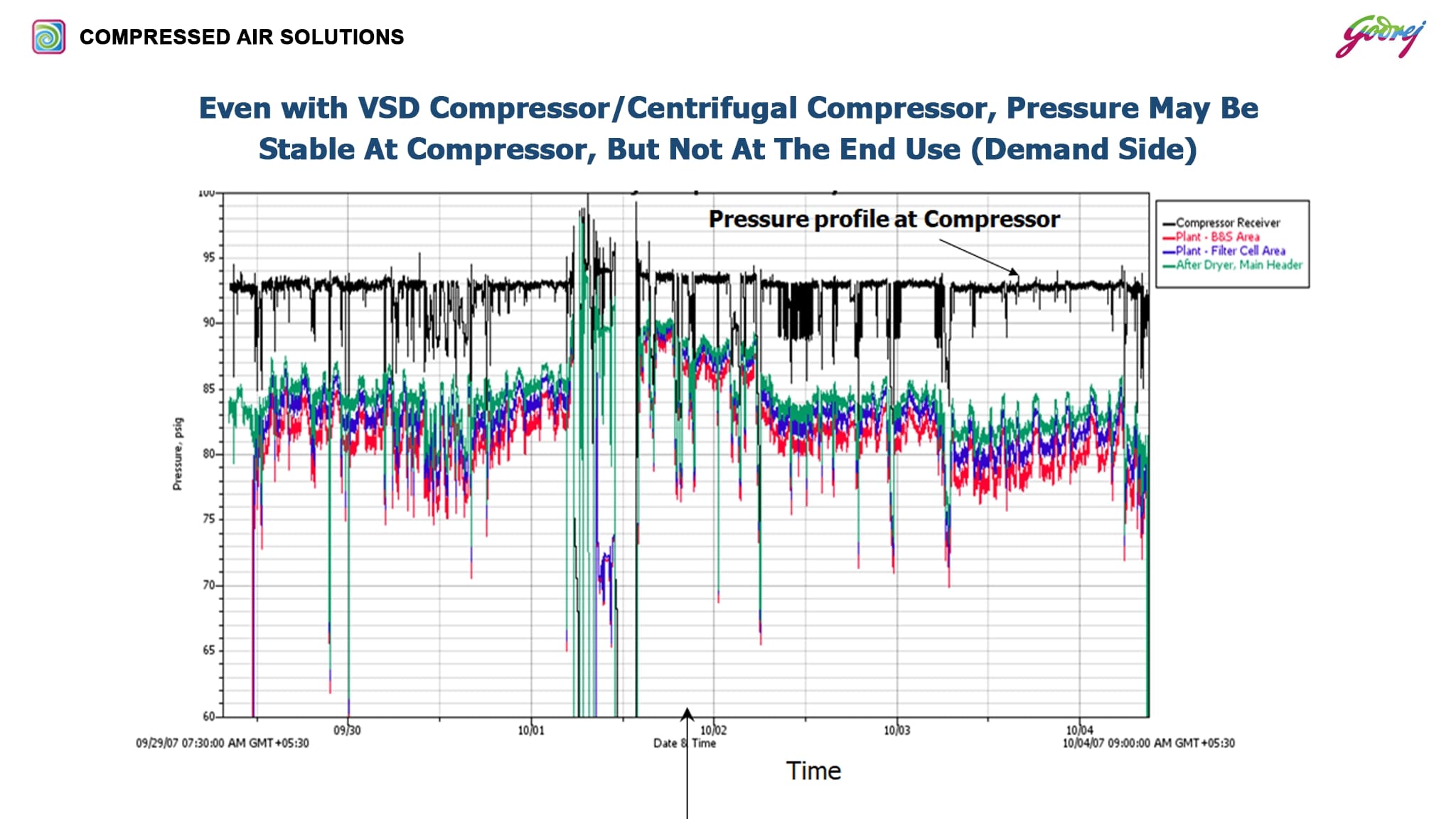 End Use Requirement Real Pressure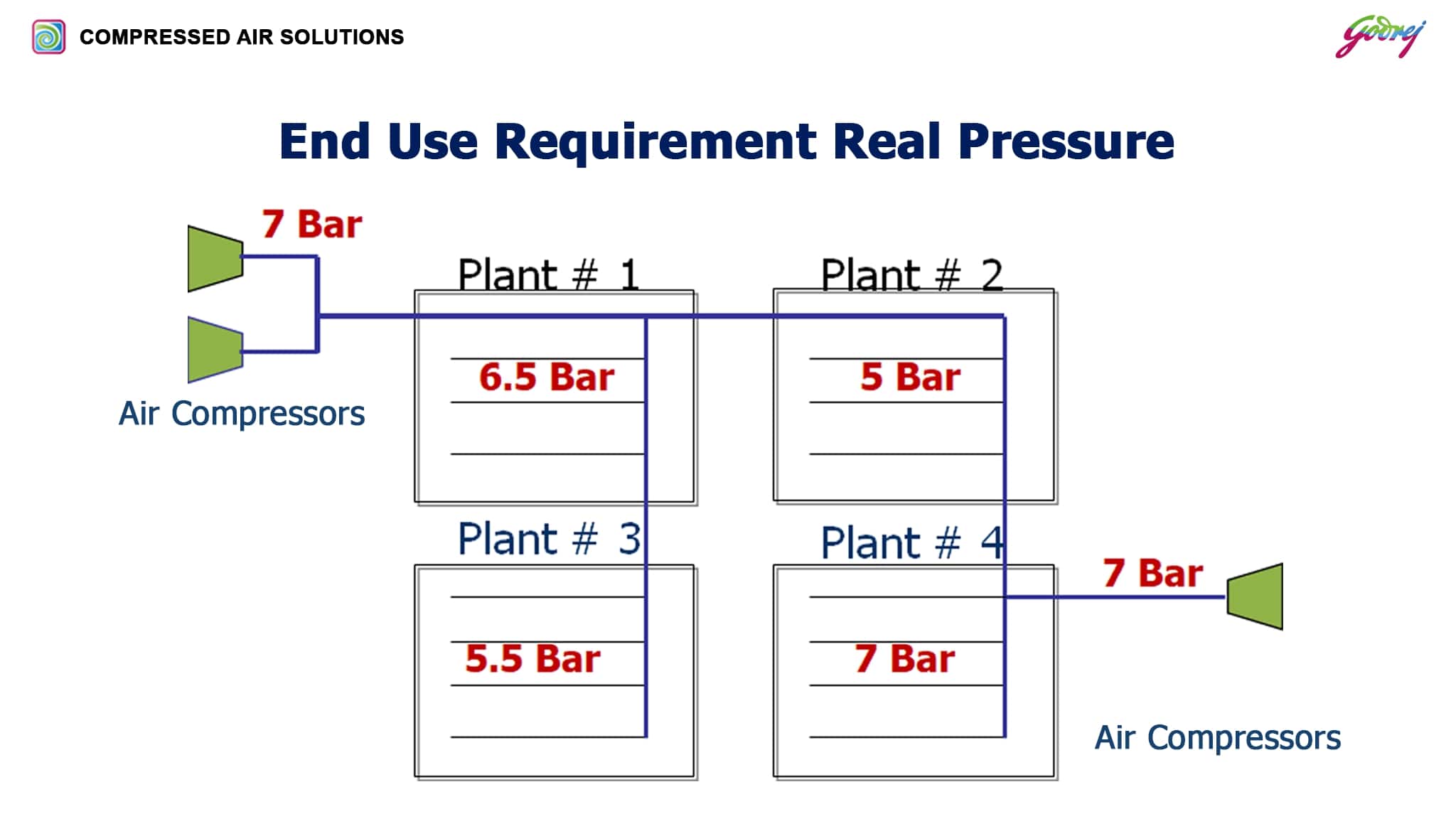 Just because of the plant 4 required the pressure of 7 bar, all other plants receive air at 7 bar pressure.
This is artificial demand.
Problems With Fluctuating Air Pressure:
Higher Energy Consumption.
Inconsistent equipment performance.
Variable product quality.
Increased maintenance costs.
Premature equipment failure.
Higher operating costs.
Interruptions in production schedules.
Godrej ControlAiR Intelligent Flow Control (IFC) System Demand Side Management System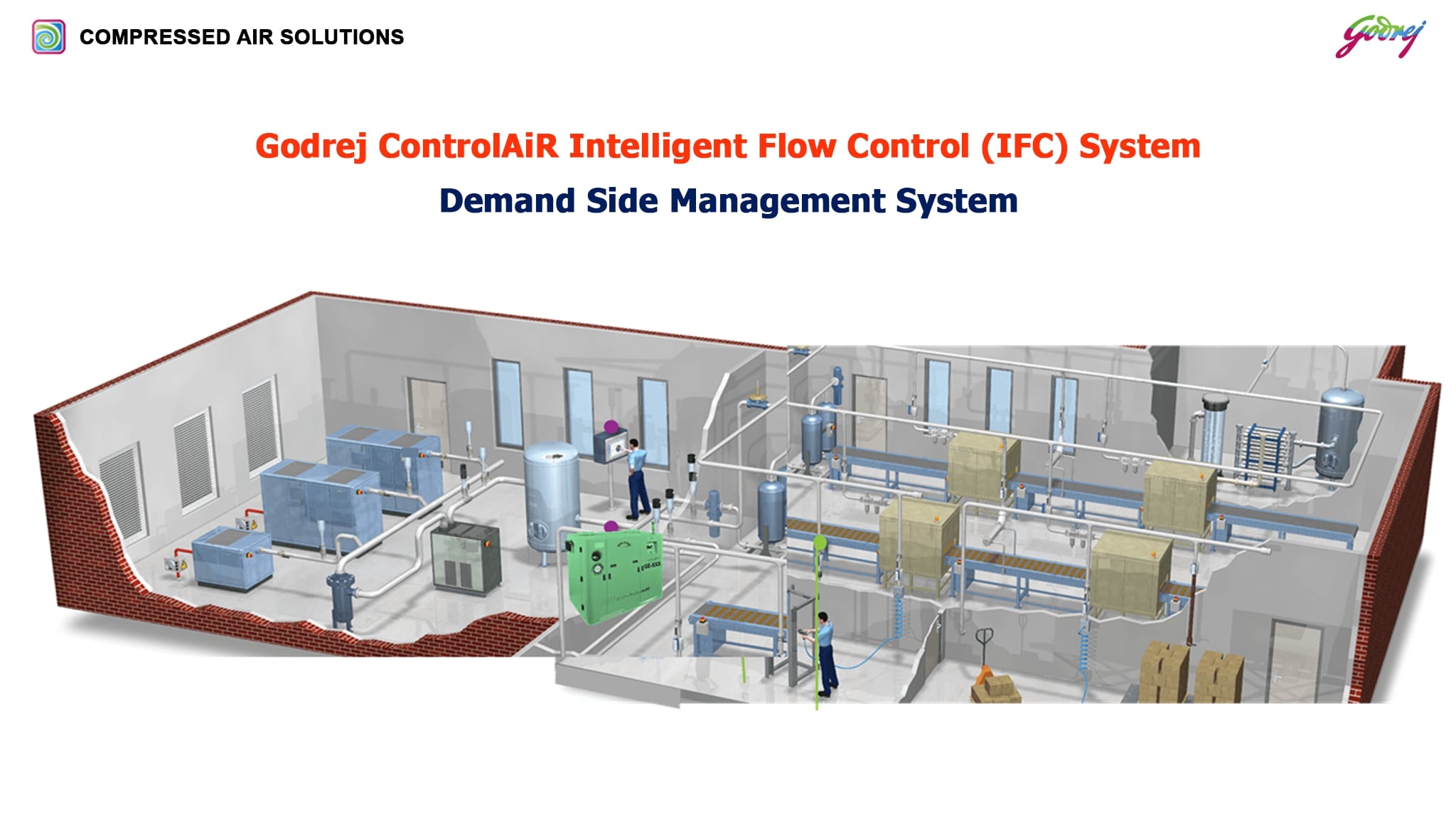 Compressed Air System – With IFC and Useful Storage Concept

The IFC creates useful storage – it helps to run the system more efficiently by providing a normal pr. Band at the comps and primary receivers, and by maintaining a stable reduced system pressure
Compressed Air System with IFC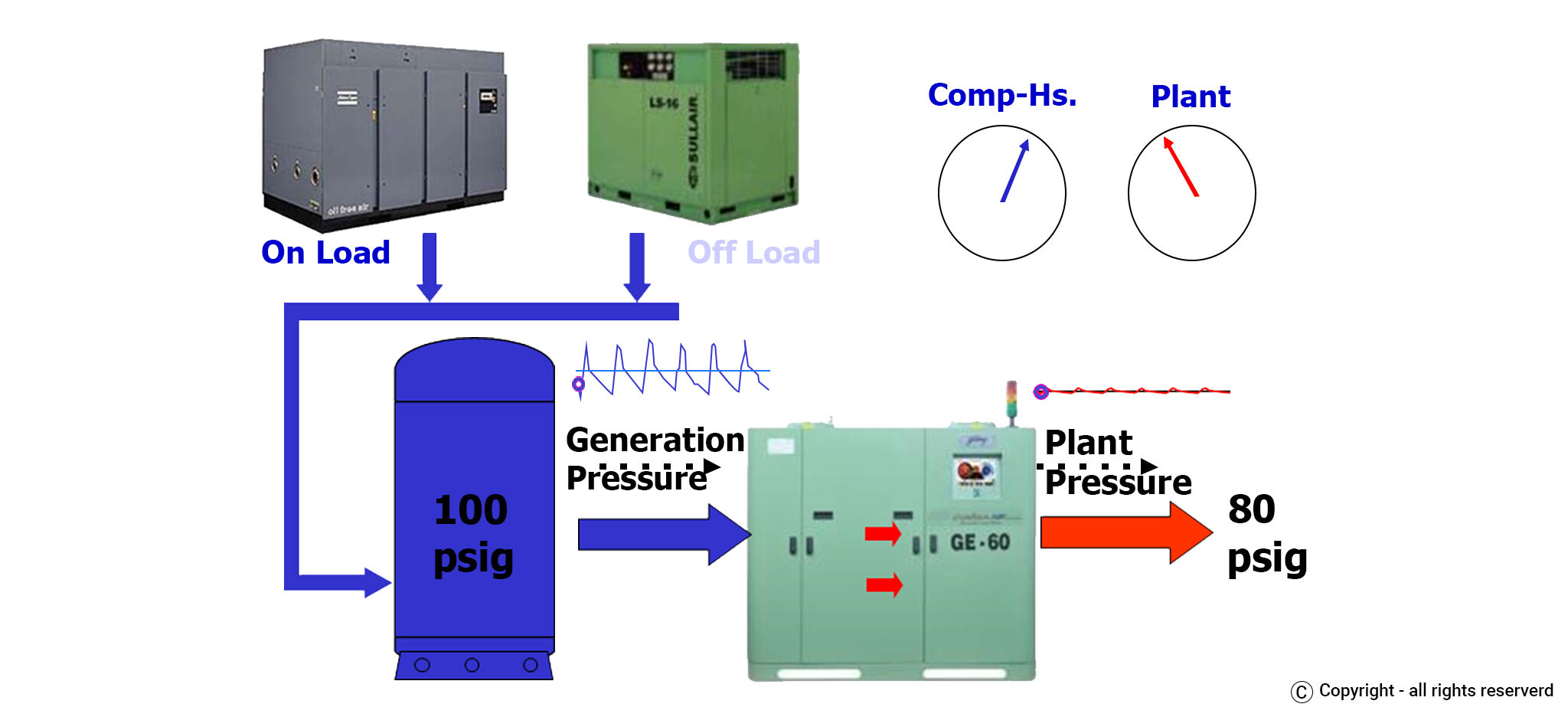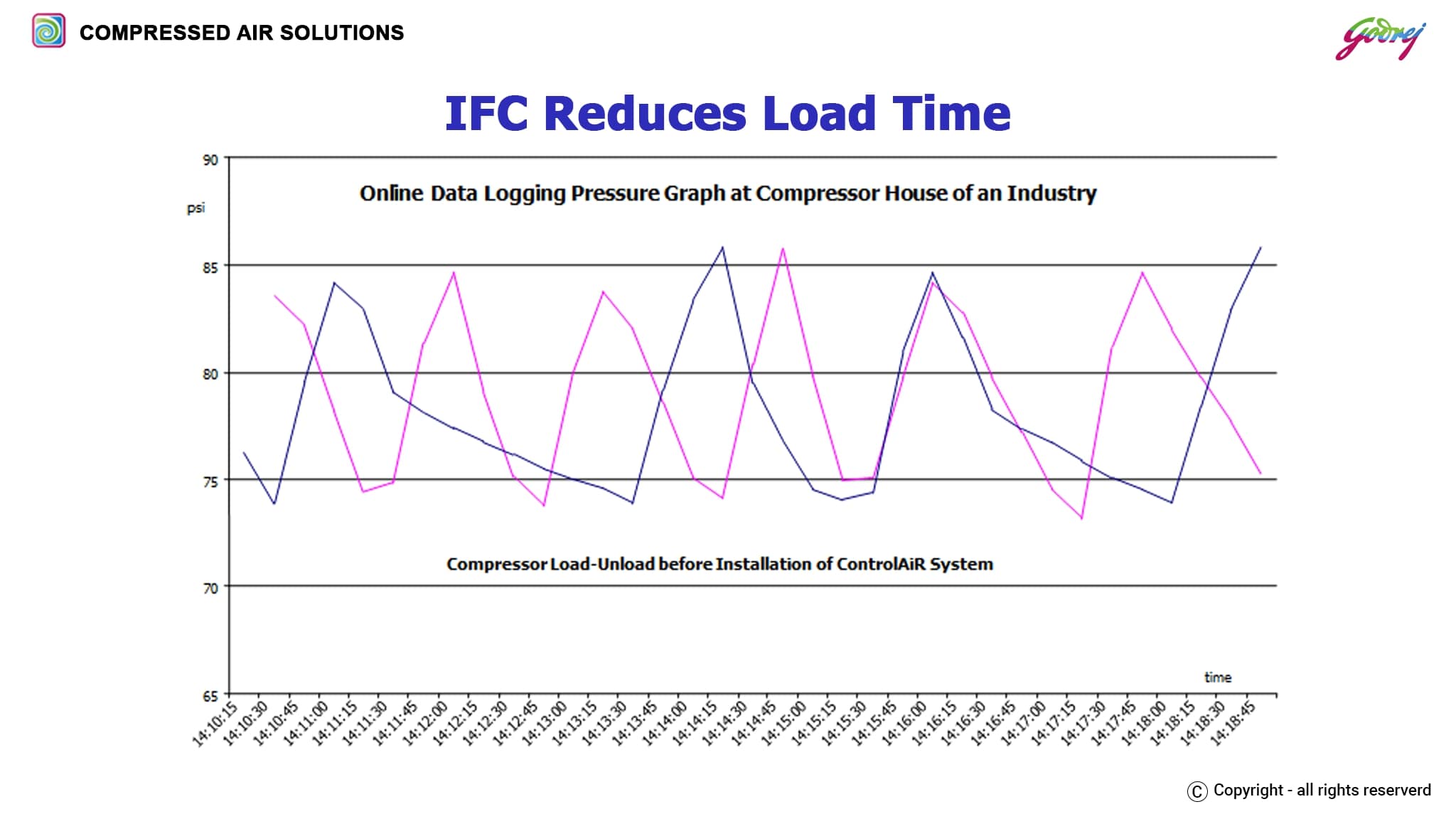 IFC Reduces loading time of the Compressor
……..Gives Energy Savings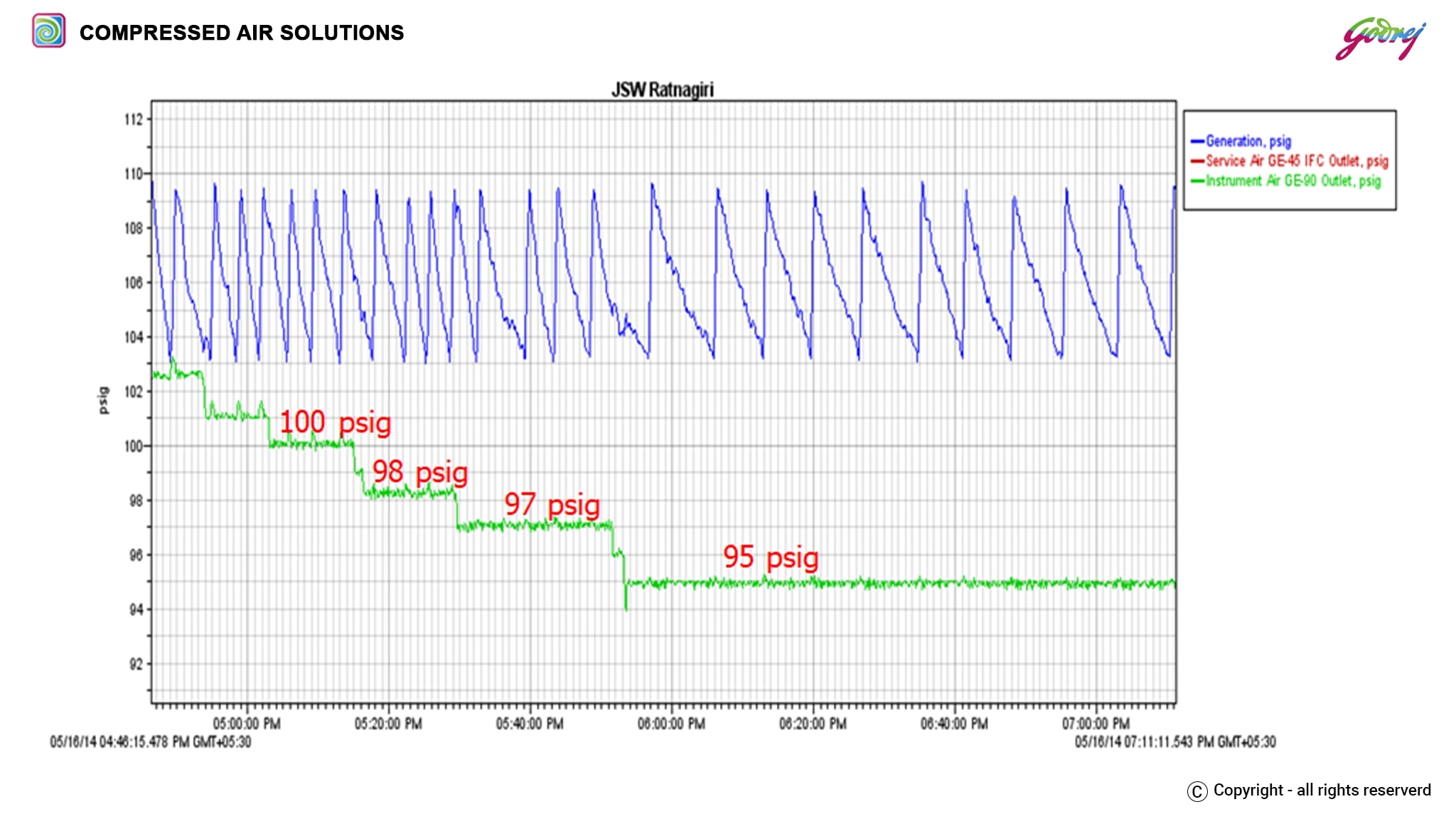 IFC Reducing Loading time & Increasing Unloading time of the Compressor ……..Gives Energy Savings
Energy Savings with Fixed Speed Compressor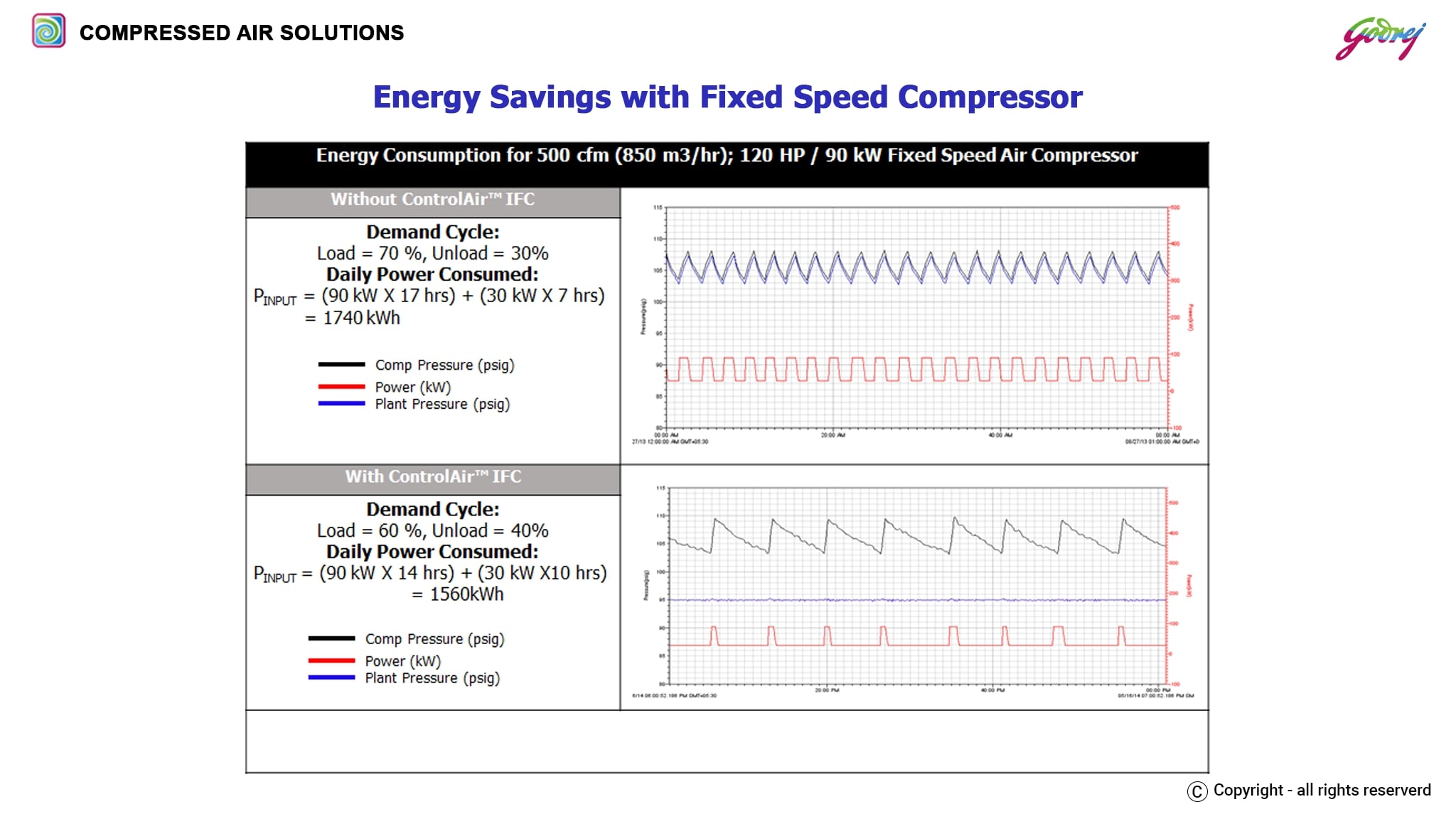 Energy Savings with Variable Speed Compressor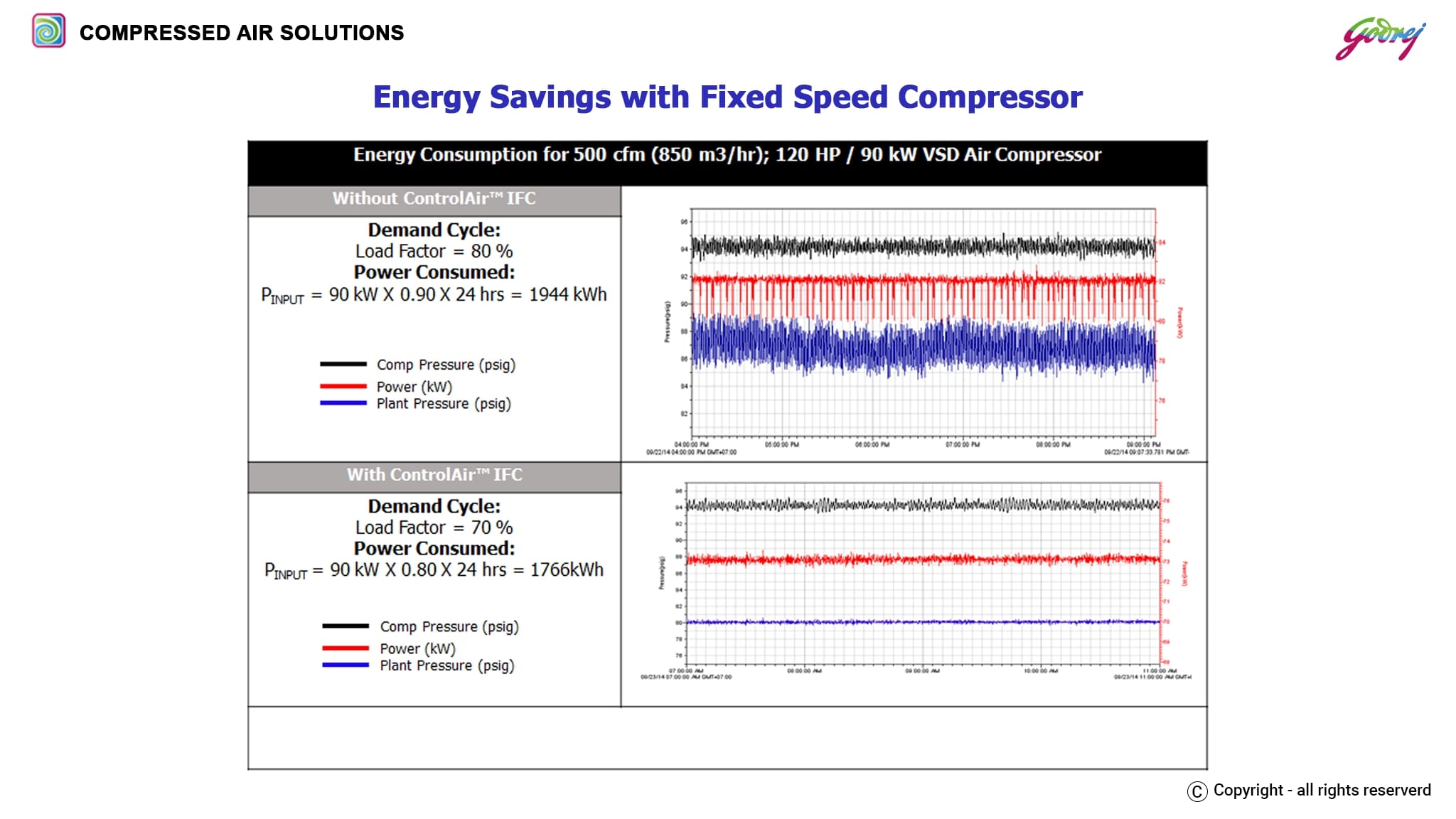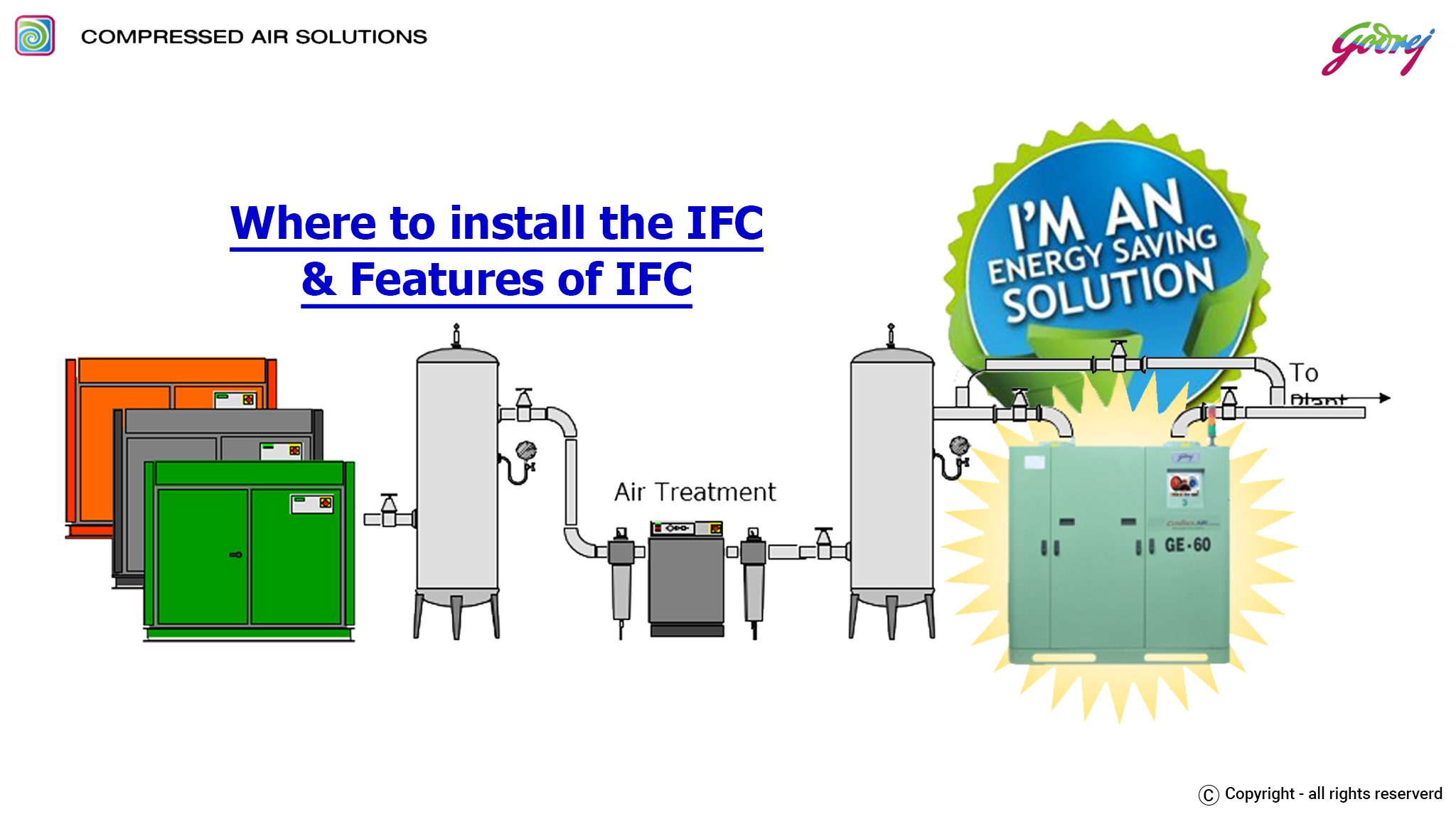 Works with All Brands & Types of Air Compressors
Reduces Artificial Demand & Save Energy, 4 ~ 25 %
Provides Constant Pressure at the End Use, within +/- 1 psig
Fail To Open System with Autobypass facility
Improves control performance of VSD Compressors
99 Pressure scheduling & remote PC Visualization software can be done
Pressure Graphs: With IFC System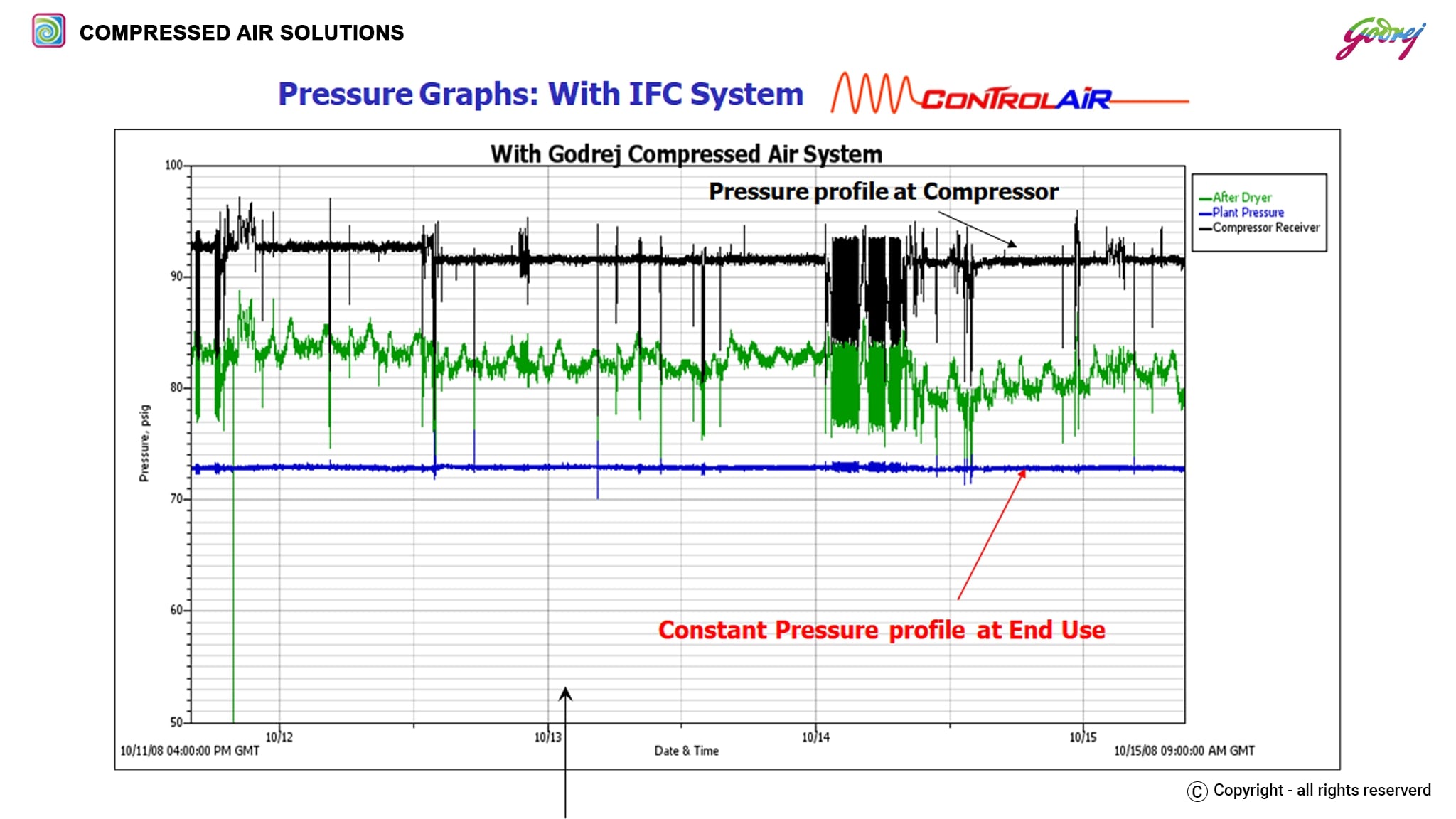 Increased Efficiency Using Godrej Control Systems
ControlAiR™ IFC Product Range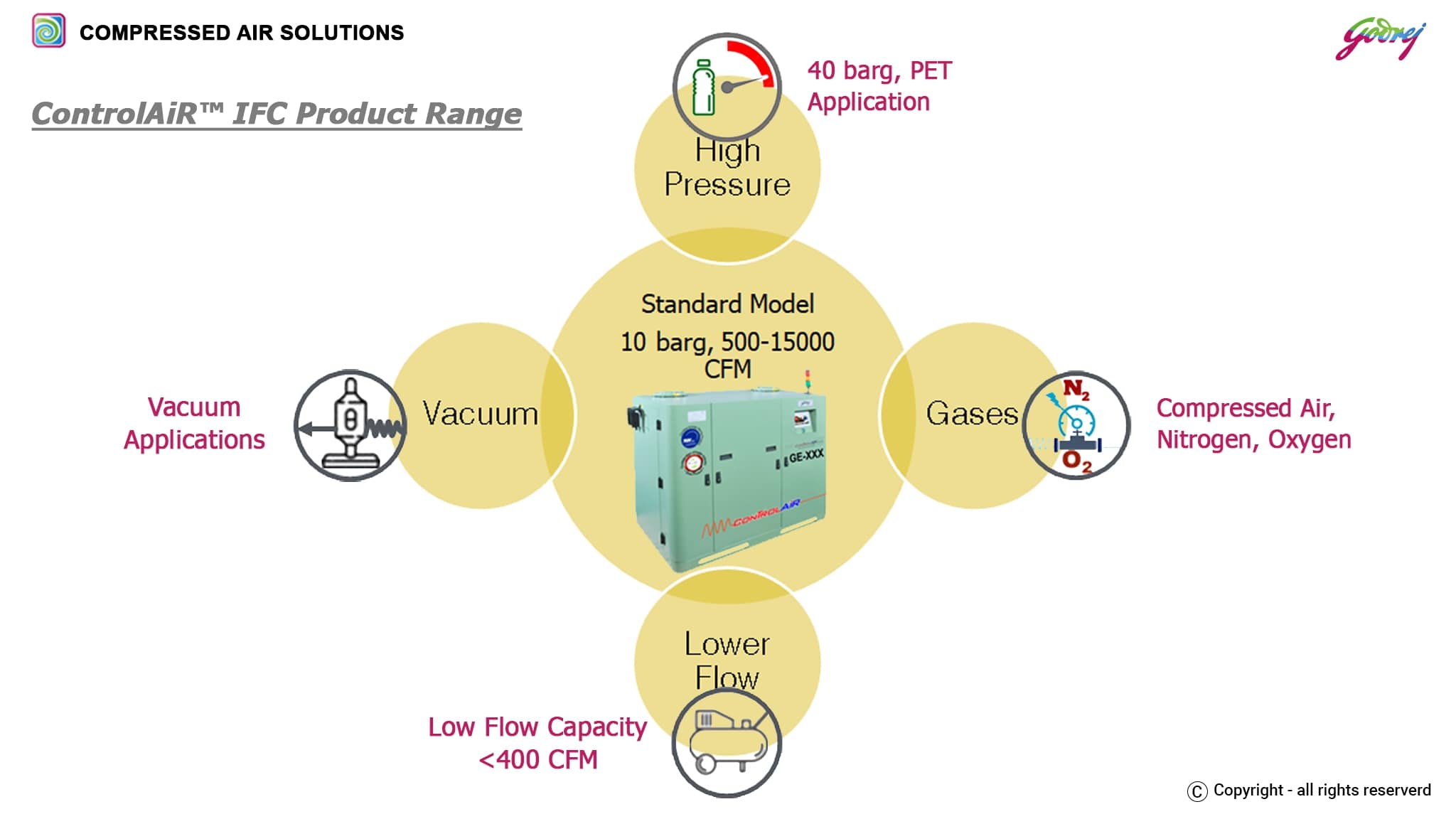 10-Bar(g) Downstream Control
10-Bar(g) Upstream Control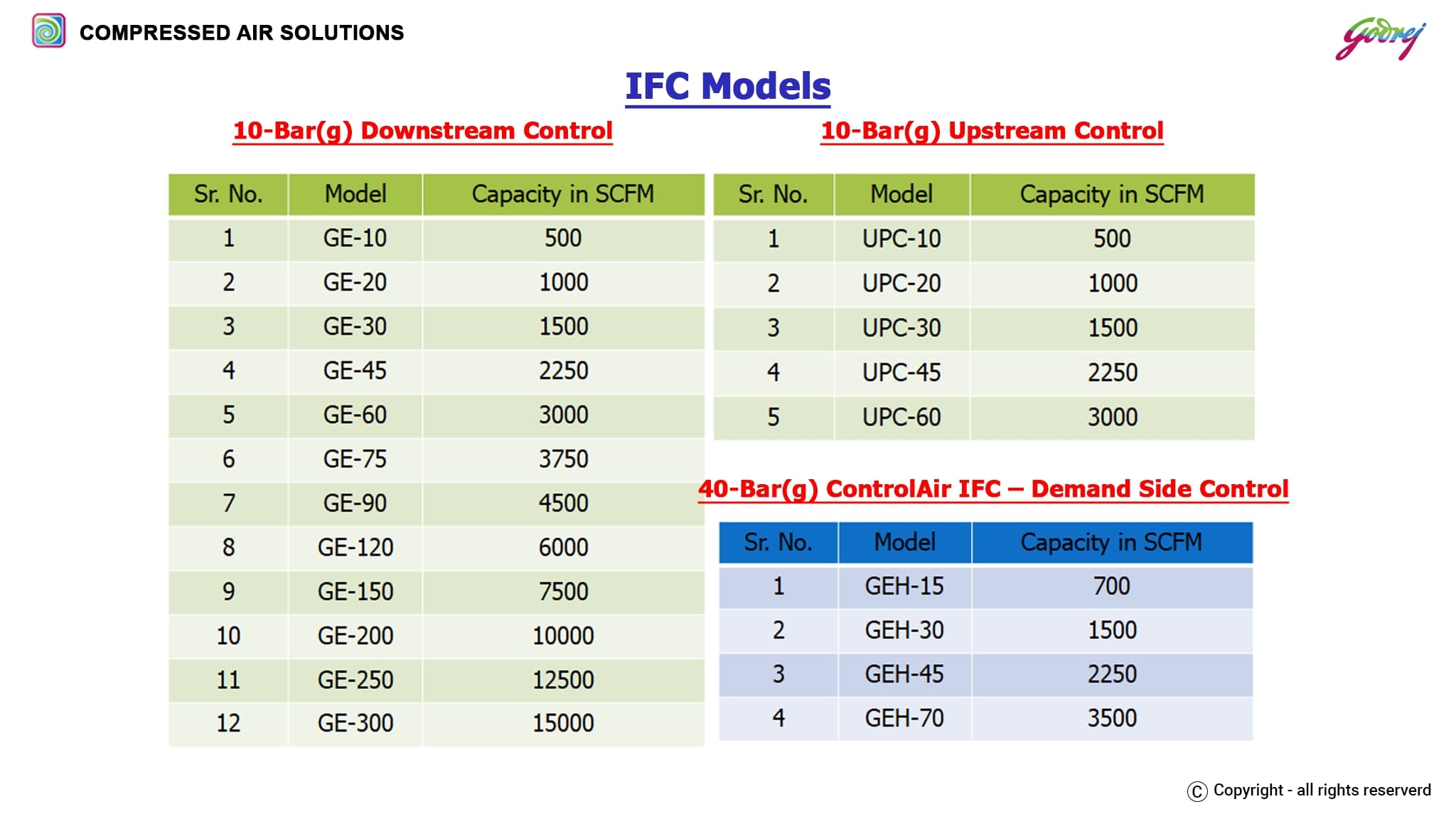 ControlAiR™ IFC Case Studies
ControlAiR™ IFC Case Study in 7 barg Network @ Textile Industry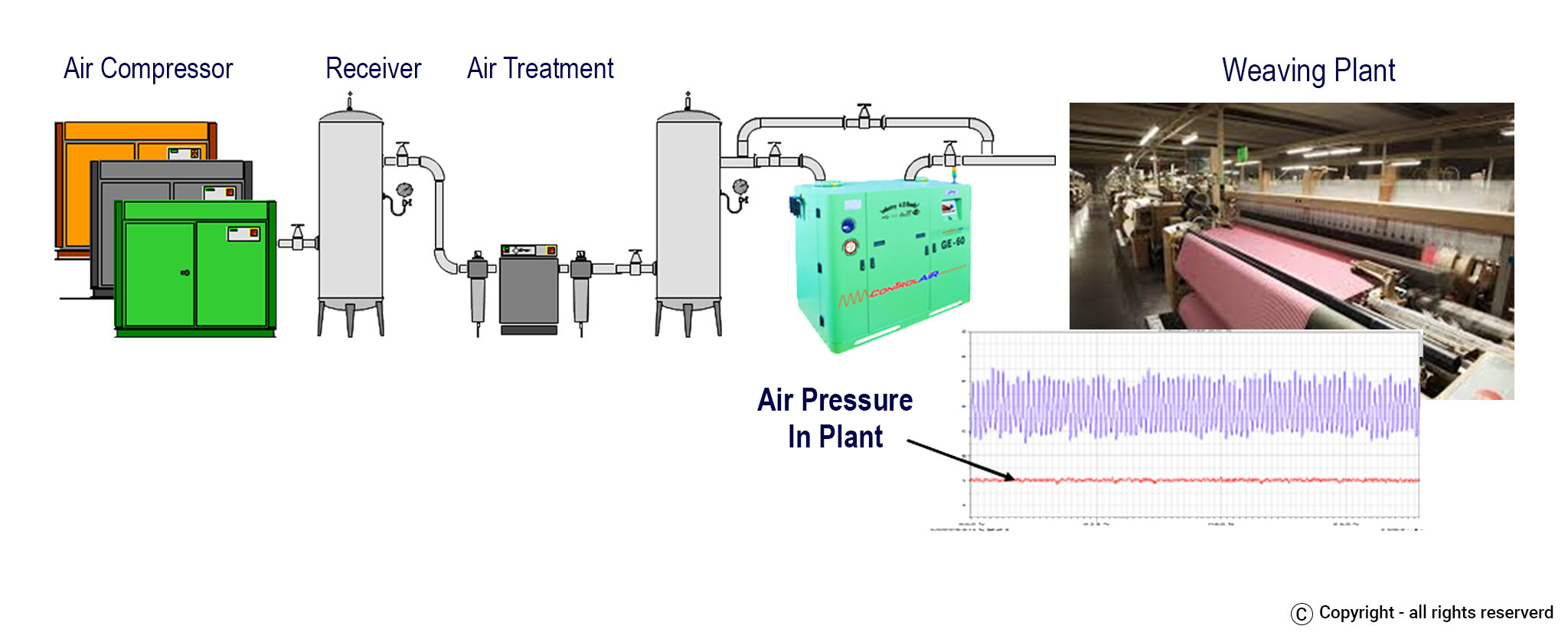 Benefits: Productivity Improvement and Energy Saving
Reduction in Artificial demand leading to energy saving in air compressors

Constant plant pressure within +/- 0.5 psig

Recued Yarn breakages by 17% leading to higher production due to less downtime
Simple Payback Period with Energy Saving @ 8%: 09 months
ControlAiR™ IFC Case Study in 40 bar PET Application @ Beverage Industry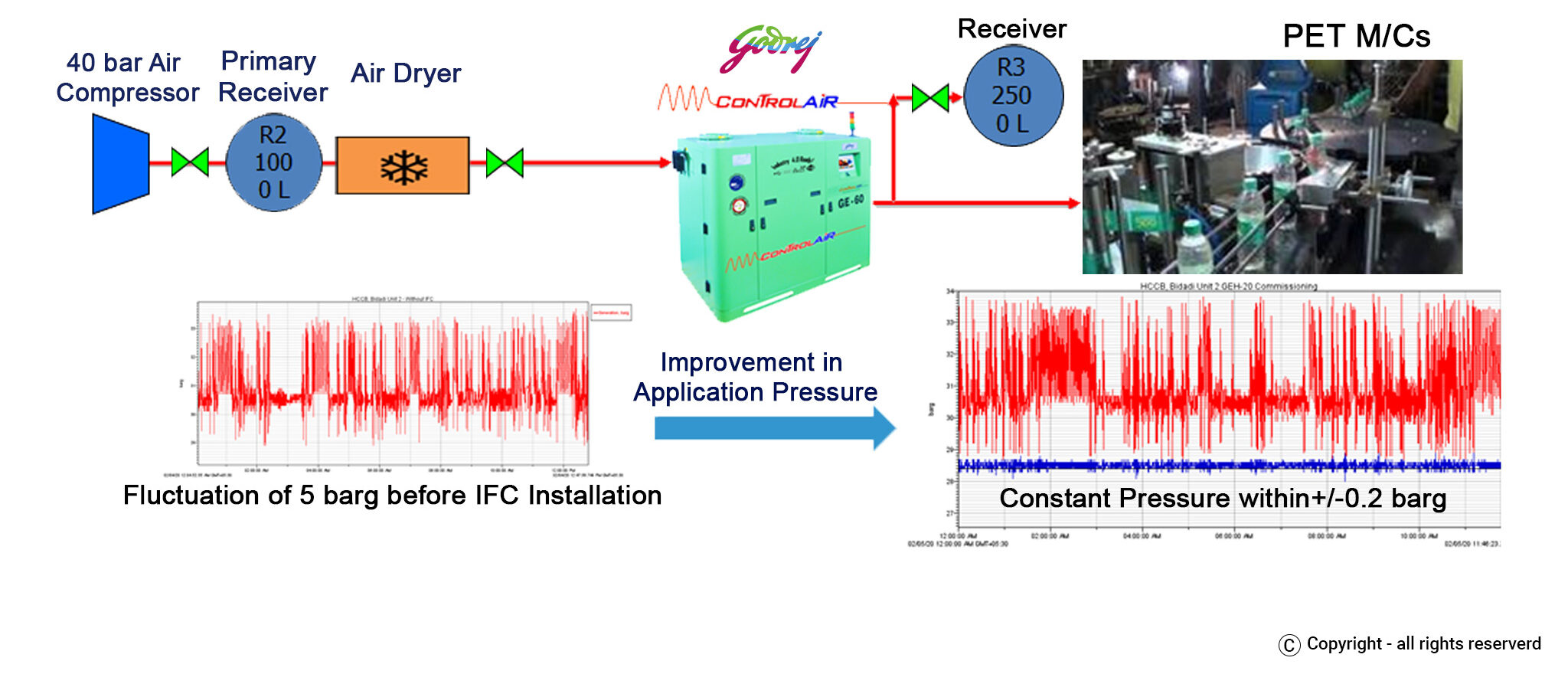 Benefits: Quality Improvement and Energy Saving
Very Stable air pressure : 5 barg fluctuations reduced to just within 0.2 barg

Reduction in Artificial Demand è Energy saving ~15% in Compressed Air!

Simple Payback Period with Energy Saving @ 15%: <6 months
Simple Payback Period with Energy Saving @ 16%: 2 months
ControlAiR™ IFC Case Study in Nitrogen Application @ Auto Ancillary Company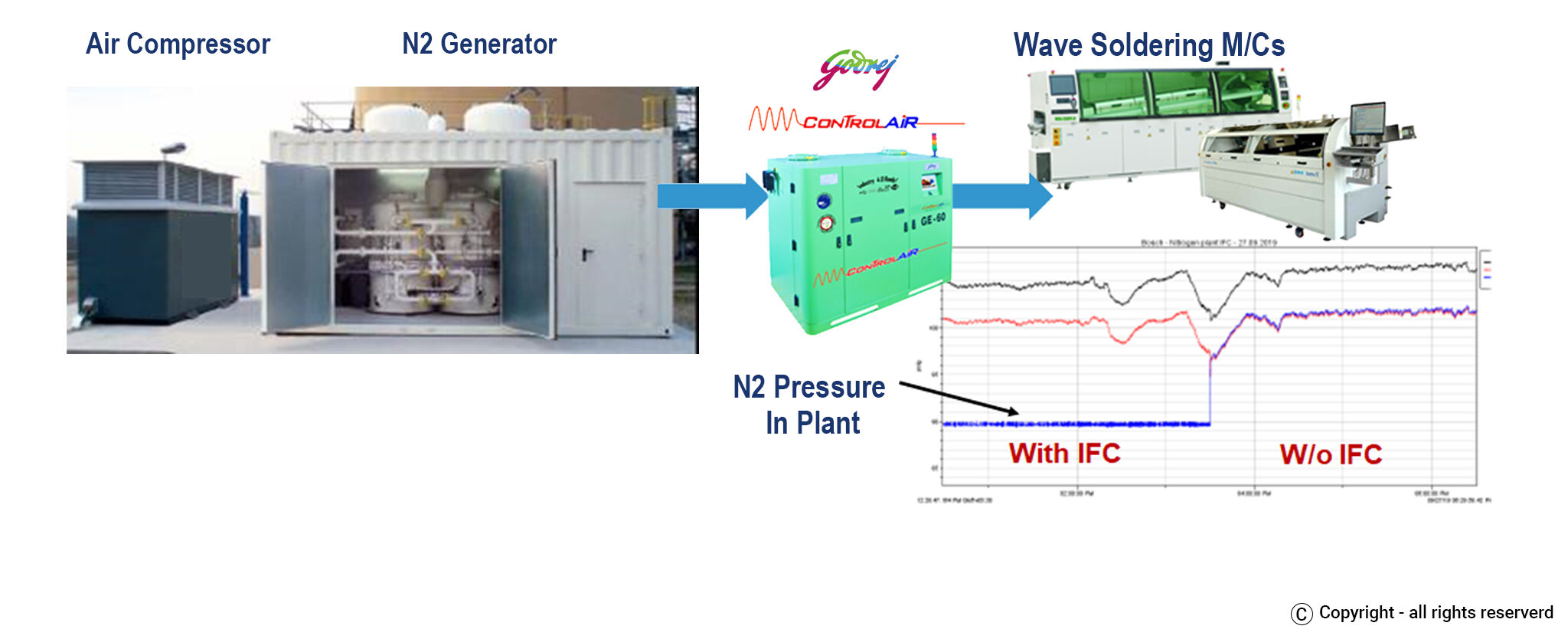 Benefits: Productivity Improvement and Energy Saving
Very Stable N2 Pressure – Production interruptions completely eliminated

Equivalent reduction in Artificial Demand è 2X Saving in Nitrogen than in Compressed Air!

N2 Generator Capacity Reduction by 27%
Simple Payback Period with Energy Saving @ 16%: 2 months
Industries We Serve & Our Esteemed Clients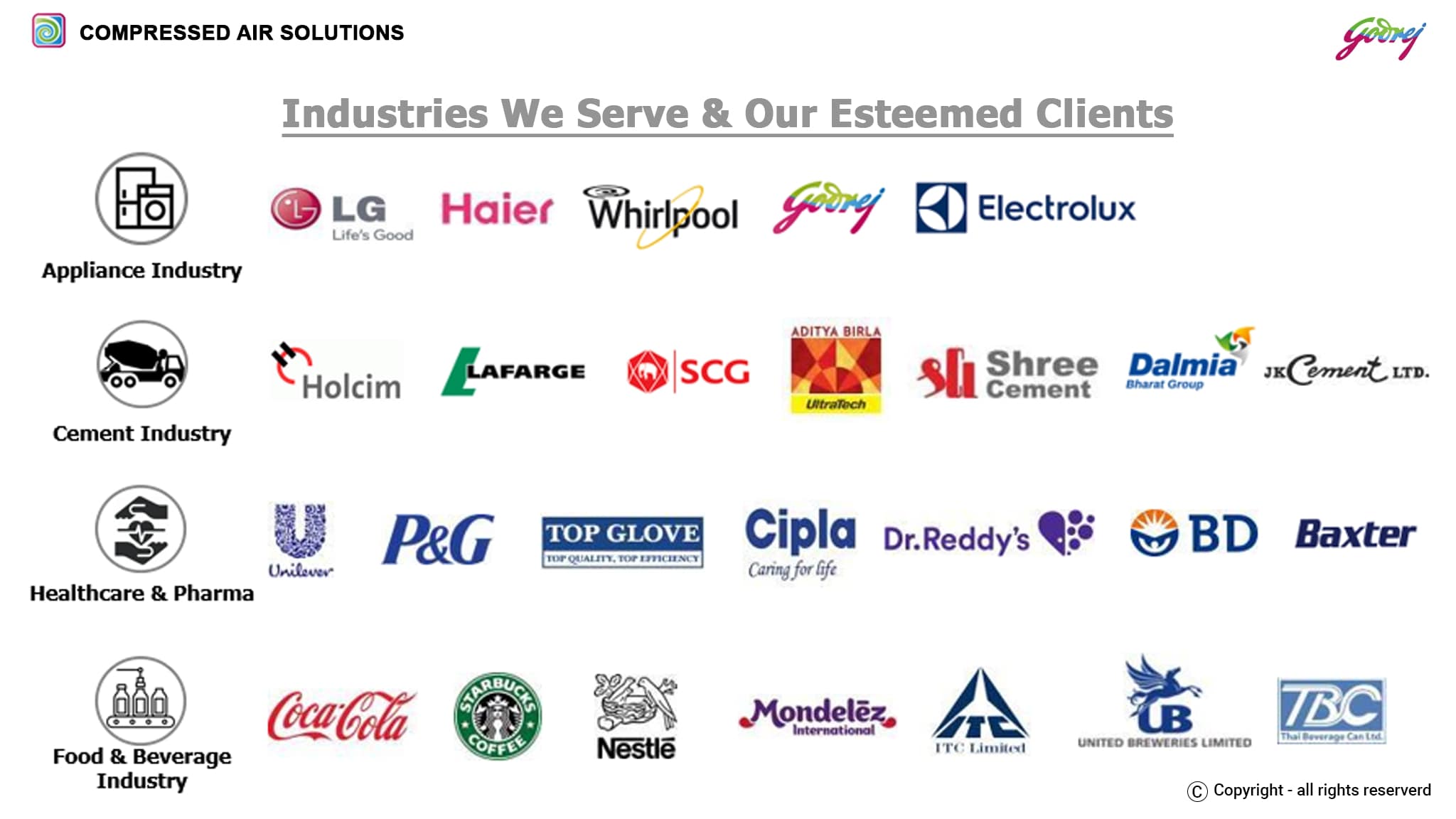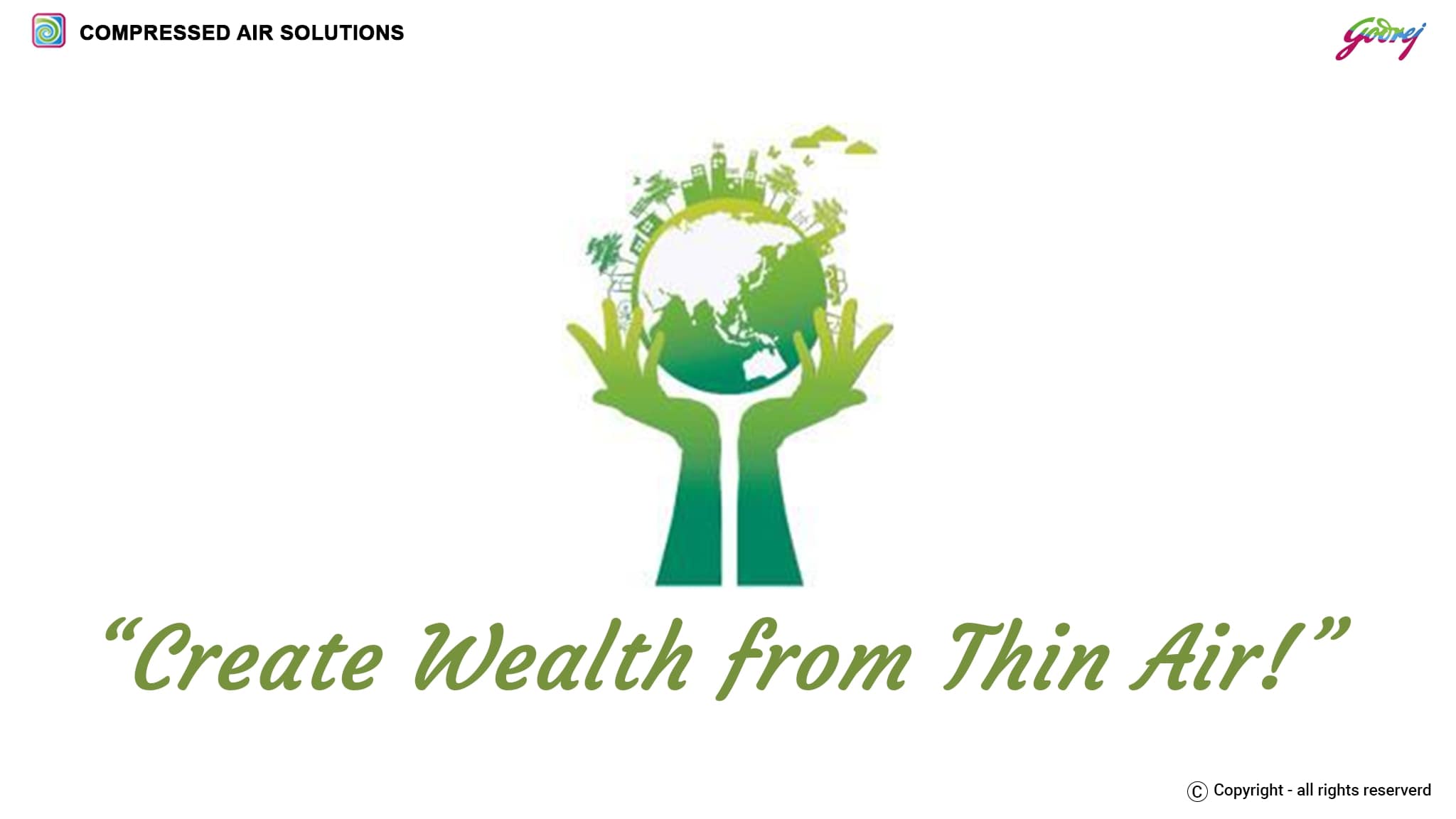 Contact Us
Godrej & Boyce Mfg Co Ltd
Compressed Air Solutions
Godrej | Electrical & Electronics
Pirojshanagar, Vikhroli, Mumbai – 400079. India
Tel.: +91-22-67962251 to 2255
E-mail: casene@godrej.com; roshe@godrej.com; shrirame@godrej.com;
Web : www.godrejcas.com ; www.godrej-airsolutions.com